Local Bike Shops
New to the area? Tired of your regular bike shop? Looking for that special pair of cycling socks? Whatever the reason, we have you covered.
Many of the shops we have listed offer discounts from 5-15% just for mentioning you saw them on MountainBikeTx.com! Check out our Bike Shop Discounts page to see which bike shops currently offer a discount, then use our LBS Googlemap to get directions to their front door!

The map below is divided into the seven regions that make up the state of Texas.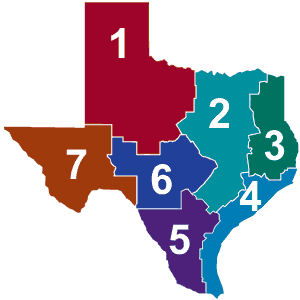 To view a region's list of bike shops click on that region of the map. We use these regions throughout the Texas pages to make it easier to locate information for your region, or the region you are interested in.

Click here to access larger views of each region (incl. major cities and highways) courtesy of TPWD.
Map courtesy of Texas Parks and Wildlife Department © 2008
Click here to add all of our Texas bike shop locations to your GPS!
In the event that you do not find a particular bike shop listed on our site then we probably aren't aware of its existence. Hey, Texas is a big state, we can't find them all unless you help us out. So, please help us help everyone else by requesting that we add the missing bike shop using our New Bike Shop form.
Hey bike shop owners!
Interested in advertising on MountainBikeTx.com?
Click here for advertising and sponsorship opportunities with MountainBikeTx.com.